Do not pass go.
Happy Sunday.
Today is Play Monopoly Day.

#PlayMonopolyDay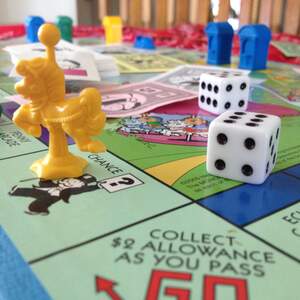 Today is Play Monopoly Day and that is just the way to celebrate. You can find Monopoly games in many and almost any theme. There are World War theme, sports theme, horse racing theme and even themes of famous cities around the world. Monopoly holds the Guinness Book of World Records title for most played board game in the world with over 500 million people having played. That was in 1999. Hasbro.com has some interesting monopoly facts. Some are below:
The longest MONOPOLY game in history lasted for 70 straight days.
The character locked behind the bars is called Jake the Jailbird. Officer Edgar Mallory sent him to jail.
The highest rent property on the game board in the U.S. is named "Boardwalk" after a street in Atlantic City. In Spain, it is named "Paseo del Prado" after a street in Barcelona and in France, "Rue de la Paix" is the name of the most coveted property space.
And you can check out one of local wineries here
in NH The Summit Winery
.
Your daily thought!
"Until you cross the bridge of your insecurities, you can't begin to explore your possibilities." —Tim Fargo
Today's Positive News Stories
SOME OF OUR LATEST
Revolutionize Your Shopping Experience With Immersive 360VR Technology!
What Is With The Gummy Paint On Cars?
Dave Says: Take the Bigger Check
Be the change you want to see in the world.
Is your business in our directory? If not, why not?
These folks are advertisers and sponsors here at Positive News For You. Please thank them.
High-Quality Roofing With Over 40 Years Experience
49 Granite St. Marlborough, NH 03455
Achieve your academic goals with the support of an expert tutor
Helping bring positivity to the world; one person, one community at a time.
50 Woodburn Street #25, Keene, NH 03431
5.0/ 5

1 Rating
I am not a super wine drinker, but when I do drink wine, this is where I go. Darren and Judy pr...
719 Hwy 12, Westmoreland, NH 03467