Ice cream for breakfast? You bet!
Happy Saturday!
Today is Ice Cream For Breakfast Day.
#IceCreamForBreakfastDay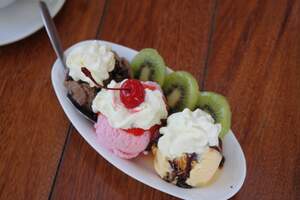 NATIONAL EAT ICE CREAM FOR BREAKFAST DAY ACTIVITIES
Eat ice cream for breakfast, of course
This is the best and most obvious way to celebrate this fantastic holiday. Serve yourself a scoop, serve your family a scoop, or even serve your significant other a scoop in bed. How about putting a scoop in your coffee for an affogato? Now we're talking!
Try something new with ice cream
There are endless ways to get creative, and limitless options for new recipes. Try ice cream with a muffin, in a fruit smoothie, or on top of your cereal. Today's the day where you try it all, and we don't judge. The only limit is your imagination.
Post your frozen breakfast creation on social media
There is no better way to make your friends jealous than to post your ice cream creation to social media. Nothing says, "I totally know how to rock my mornings" more than a photo of a waffle ice cream sandwich with a tall cup of coffee. Mm, we're getting hungry. You already know what we'll be having for breakfast today.
Your daily thought!
"I can accept failure. Everyone fails at something. But I can't accept not trying." Michael Jordan

Today's Positive News Headlines!
Be the change you want to see in the world.
Is your business in our directory? If not, why not?
High-Quality Roofing With Over 40 Years Experience
49 Granite St. Marlborough, NH 03455