Happy Mardi Gras!
Happy Tuesday!
Today is Mardi Gras!
#MardiGras #Carnaval #Carnival #FatTuesday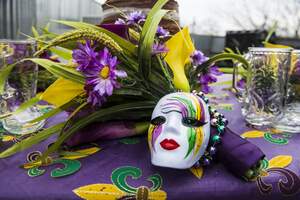 How to Observe Mardi Gras
There are many ways you could partake in Mardi Gras!
Travel to New Orleans and take part in the many festivities there. Dress up, attend a parade, eat some of the city's most iconic foods at its best restaurants, and have some drinks at its best bars.
Travel to another location that is known for its Mardi Gras celebrations, such as Venice.
Eat fatty foods made with lard, milk, eggs, cheese, and meat. Make and eat foods associated with New Orleans and Mardi Gras, such as king cake.
Listen to some musical artists associated with Mardi Gras, New Orleans, or Louisiana, such as Louis Armstrong, Clifton Chenier, Professor Longhair, Dr. John, Jelly Roll Morton, and Allen Toussaint; listen to some of the most popular Mardi Gras songs; and learn more about the music associated with Mardi Gras.
Host a Mardi Gras party.
Read a book about Mardi Gras.
Your daily thought!
"Within you is a stillness and a sanctuary to which you can retreat at any time and be yourself."Hermann Hesse
Today's Positive News Headlines!
Be the change you want to see in the world.
Is your business in our directory? If not, why not?
Abundant Grace Fellowship Church is a "grace based" fellowship that believes in the finished work of
50 Woodburn Street #25, Keene, NH 03431
High-Quality Roofing With Over 40 Years Experience
49 Granite St. Marlborough, NH 03455