Get a vision for your tomorrow!
Happy Saturday!
Today is National Vision Board Day.
#NationalVisionBoardDay
#VisionBoardDay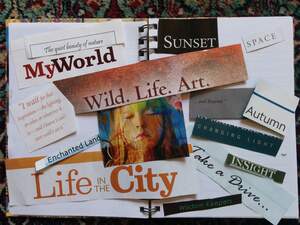 NATIONAL VISION BOARD DAY ACTIVITIES
Create your vision board
You could celebrate National Vision Board Day by creating your own vision board, You can get creative with your art skills and create an impressive one. Just make sure to make it easy to read, colorful, and unique — to motivate you every day!
Host a vision board day party
Vision boards are a great tool to help people get into the discipline of achieving essential goals. Hosting a joint vision board party is one way to show you care about your friends. Gather your friends around and discuss their goals and offer guidance on ways they can reach them. Be an inspiration and coordinate the group activity by having supplies like magazine clippings and stickers ready for setting their goals.
Encourage participation online
Share your vision board pictures and stories online to encourage participation on National Vision Board Day! Use #NationalVisionBoardDay and #VisionBoardDay.
Your daily thought!
"Don't let a bad day make you feel like you have a bad life."
Today's Positive News Headlines!
Be the change you want to see in the world.
Is your business in our directory? If not, why not?
Helping bring positivity to the world; one person, one community at a time.
50 Woodburn Street #25, Keene, NH 03431
Abundant Grace Fellowship Church is a "grace based" fellowship that believes in the finished work of
50 Woodburn Street #25, Keene, NH 03431