Blended families are celebrated.
Happy Saturday!
Today is Stepfamily Day.

#StepfamilyDay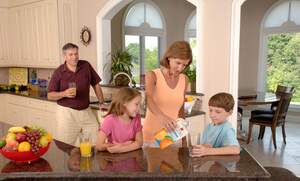 NATIONAL STEPFAMILY DAY ACTIVITIES
Spend quality time together
Use the day and spend some quality time doing what you love to do together as a family — cooking a nice meal, having a games night, watching your favorite family movie and getting take out from your favorite place, and so forth.
Go outside
Take the celebration outdoors. You could plan a family hike followed by brunch, pack a picnic and take it to the park, enjoy some outdoor sports, or even have a sunny celebration by the pool!
Tell them how you feel
We often forget to let our loved ones know we love and appreciate them in the hustle and bustle of daily life. Take this day to sit with your family and let them know how you feel, have that conversation you've been meaning to have for a while, or even take this chance to smooth things over if things have been rocky.
And you can check out one of local wineries here
in NH The Summit Winery
.
Your daily thought!
"Don't let perfection become procrastination. Do it now." —Danielle LaPorte
Today's Positive News Stories!
SOME OF OUR LATEST
Be the change you want to see in the world.
Is your business in our directory? If not, why not?
These folks are advertisers and sponsors here at Positive News For You. Please thank them.
Achieve your academic goals with the support of an expert tutor
5.0/ 5

1 Rating
I am not a super wine drinker, but when I do drink wine, this is where I go. Darren and Judy pr...
719 Hwy 12, Westmoreland, NH 03467
Helping bring positivity to the world; one person, one community at a time.
50 Woodburn Street #25, Keene, NH 03431
High-Quality Roofing With Over 40 Years Experience
49 Granite St. Marlborough, NH 03455