Aarrr!! Guess What Day It Is?
Happy Tuesday!
Today is International Talk Like a Pirate Day.

#InternationalTalkLikeAPirateDay
#TalkLikeAPirateDay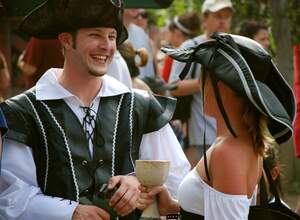 How to Observe International Talk Like a Pirate Day
The day is celebrated by talking like a pirate. Before you start, you may want to find out your pirate name. "Aarrr!!" is probably the most famous pirate word or phrase, but there are many others. Not all pirates say the exact same phrases. For example, Dutch pirates speak differently than German pirates. If you don't know how to say a phrase like a pirate would, try using a pirate translator. If you really want to get into the spirit of the day you could dress like a pirate. You could also spend the day reading or watching films about pirates. Read Treasure Island. Watch one of the Pirates of the Caribbean films, or Hook. Robert Newton is known for popularizing pirate speech, and you could watch some of his films: Treasure Island, Long John Silver, and Blackbeard the Pirate. In the past, Krispy Kreme Doughnuts has given away doughnuts on International Talk Like a Pirate day, but as of 2017 they no longer do. Additionally, Long John Silver's has participated in the day, and in 2017 is giving away fried twinkies. Finally, you can change your Facebook language to Pirate.
And you can check out one of local wineries here
in NH The Summit Winery
.
Your daily thought!
"There is only one person who could ever make you happy, and that person is you." —David Burns
Today's Positive News Stories!
SOME OF OUR LATEST
Be the change you want to see in the world.
Is your business in our directory? If not, why not?
These folks are advertisers and sponsors here at Positive News For You. Please thank them.
High-Quality Roofing With Over 40 Years Experience
49 Granite St. Marlborough, NH 03455
Achieve your academic goals with the support of an expert tutor
Helping bring positivity to the world; one person, one community at a time.
50 Woodburn Street #25, Keene, NH 03431
5.0/ 5

1 Rating
I am not a super wine drinker, but when I do drink wine, this is where I go. Darren and Judy pr...
719 Hwy 12, Westmoreland, NH 03467